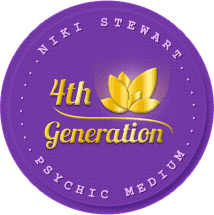 Niki Stewart is a 4th Generation Psychic Medium that works with people from all walks of life around the world. From wonderful everyday people to high profile business professionals to Grammy Award winning celebrities. What you will find with Niki Stewart is a caring and professional reading coupled with psychic gifts passed down to her by both Great grandmothers.
Niki's family originates from Europe where both her Great grandmothers were well known for their ability to see into the future and heal out of balance bodies and spirits. Niki's special psychic gifts are passed down in her DNA and have been further nurtured from the age of seven by her grandmother who also "knew things" and understood what was happening when Niki started communicating about her dreams which were very prophetic.
Niki Stewart appears regularly on Psychic TV and is known as the Love Guru for her ability to help people connect with their soulmates with time frames, descriptions and other relevant details. Niki is also skilled in career questions, life path journey and any real issue that you need clarity with. Niki is also working with Realm Australia filming for Presence of Spirits.
If you would like a reading with an honest and accurate Psychic Medium, then Niki is your Personal Psychic Medium. There are many wonderful testimonials to read on this site for Niki Stewart. From the moment of connection with Niki you will know you are in caring and professional hands. Niki's life mission is to share truth, compassion and to empower you to make the best choices for your life.
As Seen On TV